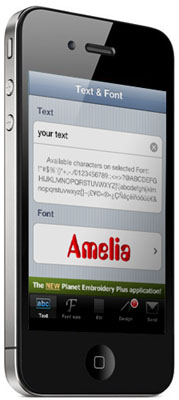 Description
iPE produces embroidery designs for embroidery machines in several embroidery machine file formats. This program is useful for you, if you own an automatic embroidery machine (Brother, Janome, Singer, Elna, Melco, Happy, etc).
You will be able to create text designs using pre-digitized fonts, select the size, density and underlay. iPE sends those designs (attached) by e-mail to your e-mail account. Then you just have to save them (from the computer) on the apropriate media for your embroidery machine.
Don't worry if iPE doesn't include your embroidery file format. You may later convert the created designs using other standard application (stitch era universal, etc).
No need to learn about digitizing. Creation of embroidery designs with your custom text requires a few simple steps.
iPE uses some Internet services to process each design request, then it requires an Internet connection to run it.
If you like this application, or if you would like more free programs for iPhone, please recommend this program.
You may find other Sierra Technology Group free and professional products & services at: FreeSierraSoftware.com, PlanetEmbroidery.com, StitchEra.com, EmbroideryOffice.com.